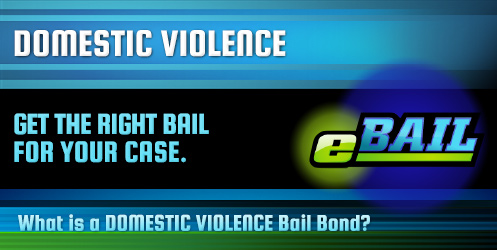 Hello, I'm Marc Gabriel and if you are in need of a Domestic Violence Bail Bonds service in Las Vegas, my company can help. eBAIL can qualify you for our "no money down" Bail Bonds in Las Vegas quick and easy, and once you have, getting out of the Las Vegas jail quickly is the next step. Easy payment plans are available, and that is all there is to getting released from jail using me as your Las Vegas Bail Bondsman.
What are Domestic Violence Bail Bonds in Las Vegas?
If you're unsure of what a bond even is, here's a simple explanation. They are basically a check written to the court by the bonding company for the entire cost of the bail. If bail is $ 1,000, that's what I write the check for which is then turned over to the court. As your Las Vegas Bail Bondsman or your Henderson Bail Bonds representative, eBAIL charges 15% of the entire bail amount for this service. In other words, eBAIL gets $ 150 out of the deal, and you get to walk away to wait for your court appearance rather than spend that time waiting in jail.
How to get released from Jail in Las Vegas
There are only 3 ways to get released from jail in Las Vegas when bail is required, and all of them mean you get to stay "inside" while working it out. That's not an option most people would choose willingly and this is when you need our Domestic Violence Bail Bonds services most. Other than calling on eBAIL, those other 3 options I mentioned are as follows:
You will have to pay the full amount of bail before being released, and the law will verify that your payment is "good for it."
You can choose to pay 15% of the entire amount, and again, payment will be verified.
Or, you will need to hire a criminal defense attorney to get out of jail.
How long does it take to be released from a Las Vegas jail?
Without the services of a Las Vegas Bail Bonds company like eBAIL, getting released from jail could be time-consuming. However, when you choose us, that's not the case. When it comes to getting you out of jail, we are fast with the paperwork and don't keep you waiting one minute longer than necessary. It doesn't matter if you require Henderson Bail Bonds or Las Vegas Bail Bonds, eBAIL is there to help with Domestic Violence Bail Bonds wherever you need us to be.
Why choose eBAIL Bail Bonds for your Bonding Needs?
Choosing eBAIL for your Domestic Violence Bail Bonds needs makes the best sense, especially when you consider our "No Money Down" offer. It would be a shame to stay in jail any extra length of time just because it's not your payday yet and you don't have that 15% to get out. We at eBAIL have a good reputation in the Bail Bonds Las Vegas business because we've earned it. We won't risk that by providing poor, slow or inadequate service to get you out of jail with Bail Bonds in Las Vegas.
Areas we serve
Las Vegas and Henderson residents aren't the only towns eBAIL benefits. We also take care of bail bonds in Boulder City and in North Las Vegas. It only takes minutes to give us a call and start the process of getting you or a loved one out of jail. We don't judge our clients, we understand that bad things happen to good people and are ready to help as soon as the phone rings.